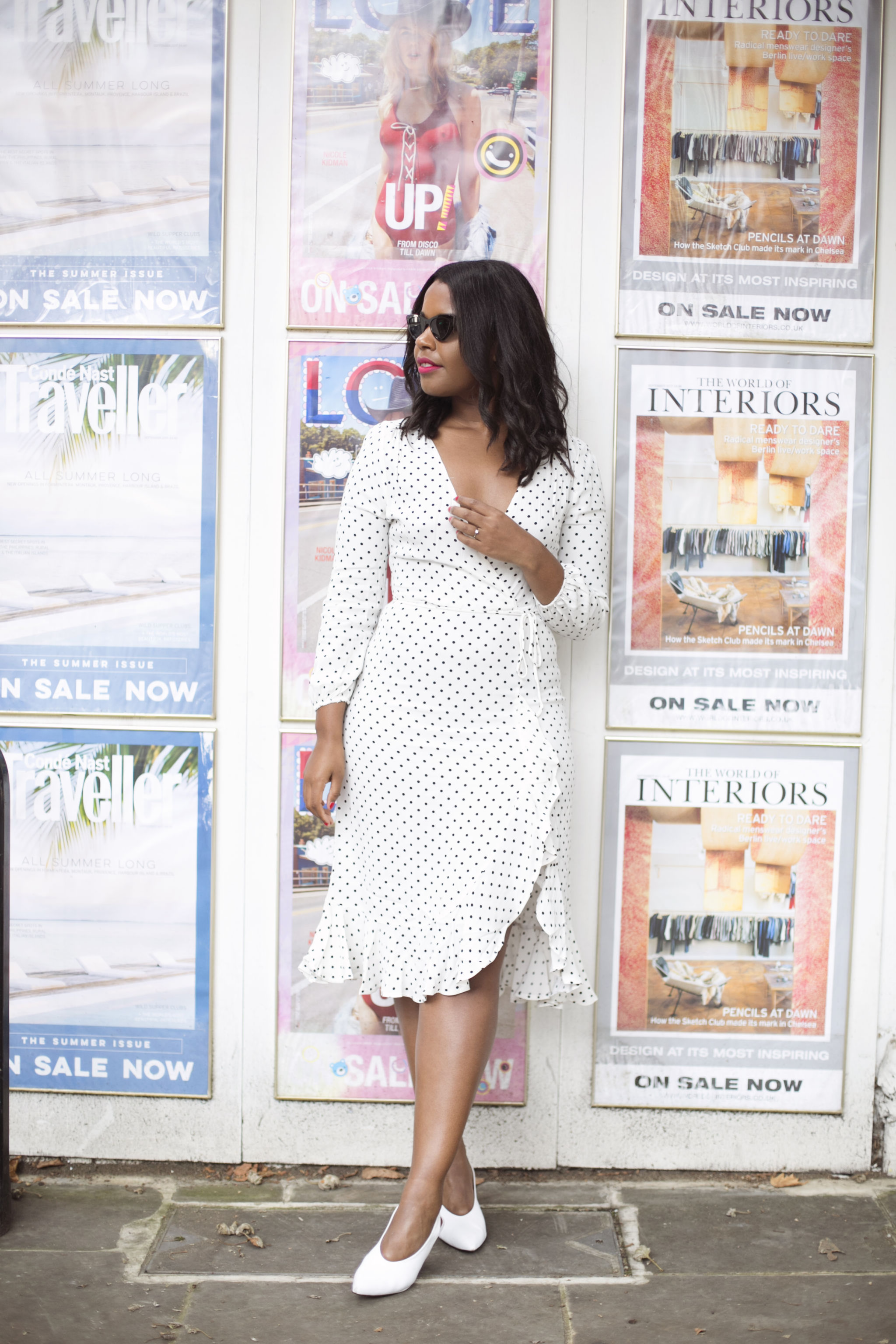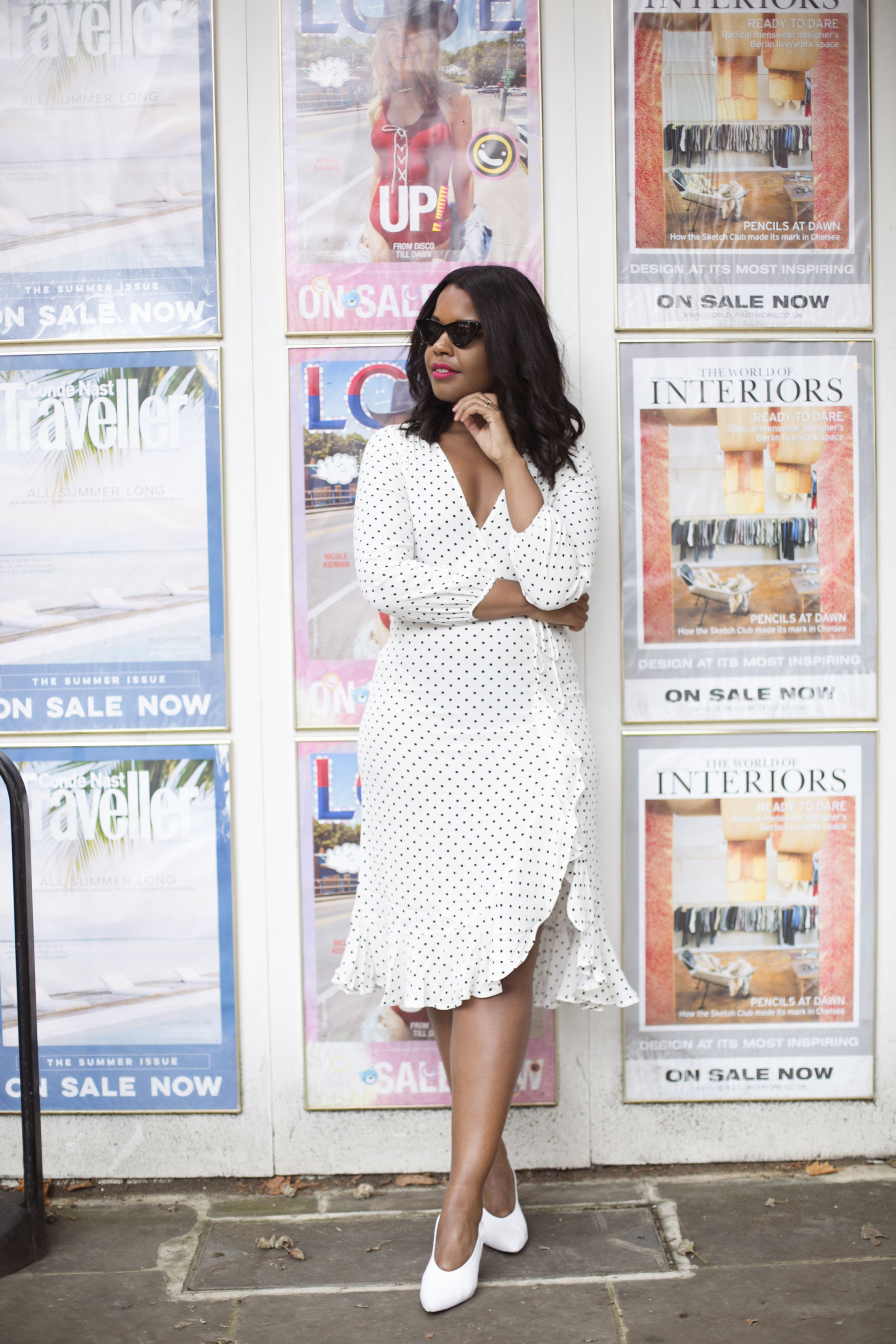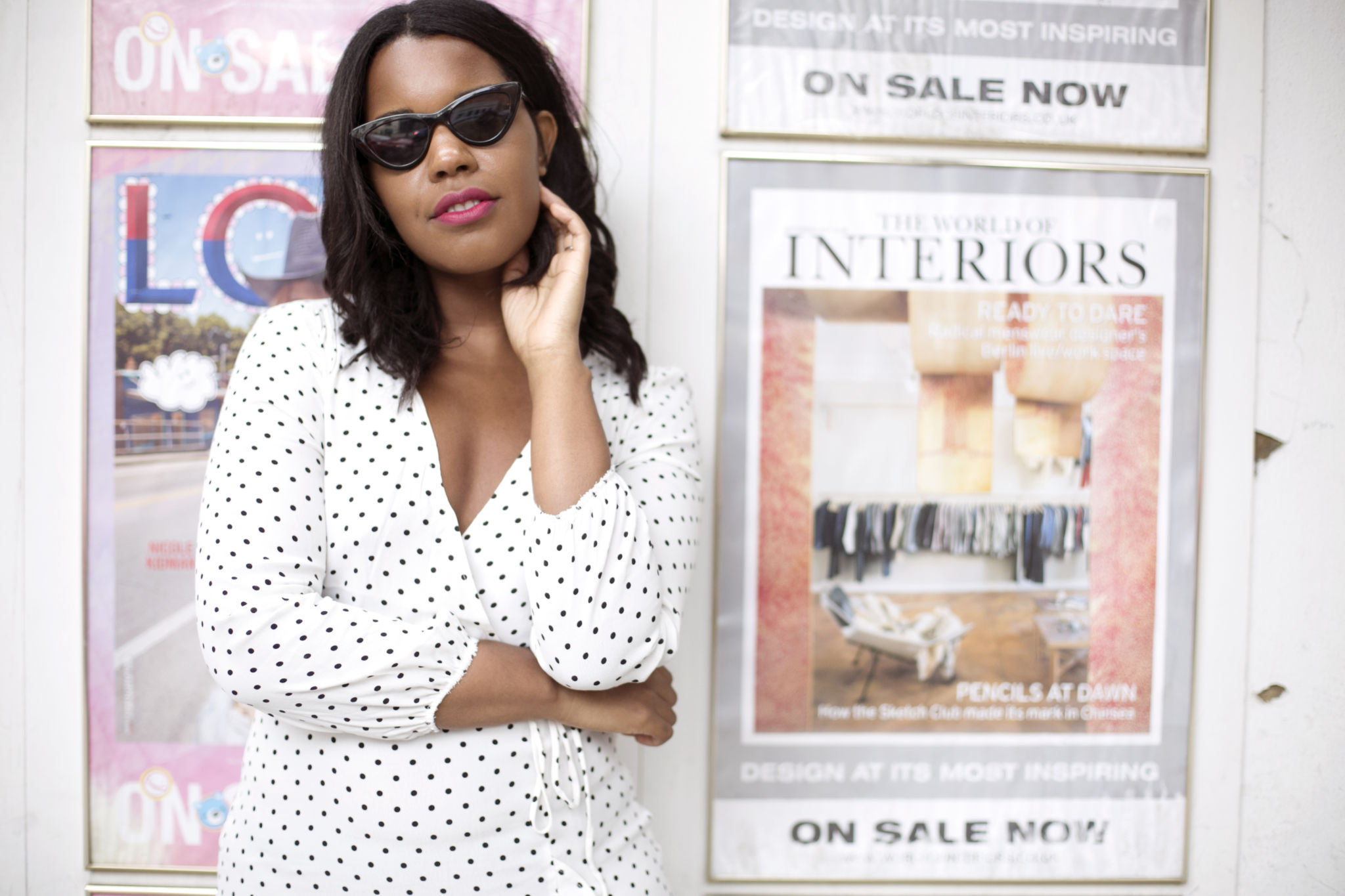 Well hey there and happy Tuesday to you! I wanted to pop up a quick blog post for you all, so I could 1. word vomit my worries for a quick sec. And 2. showcase this killer polka dot dress which makes me feel like I can road-house those worries and just power through.
Time is really getting away with me lately. So much so that my procrastinating ways have come back to bite me and once again I'm scrambling through my ever-growing to-do list of wedmin, work and blogging because I've left most things to the last minute.
Dress | Mango
Shoes | Topshop
Sunglasses | Missguided (sold out, similar here)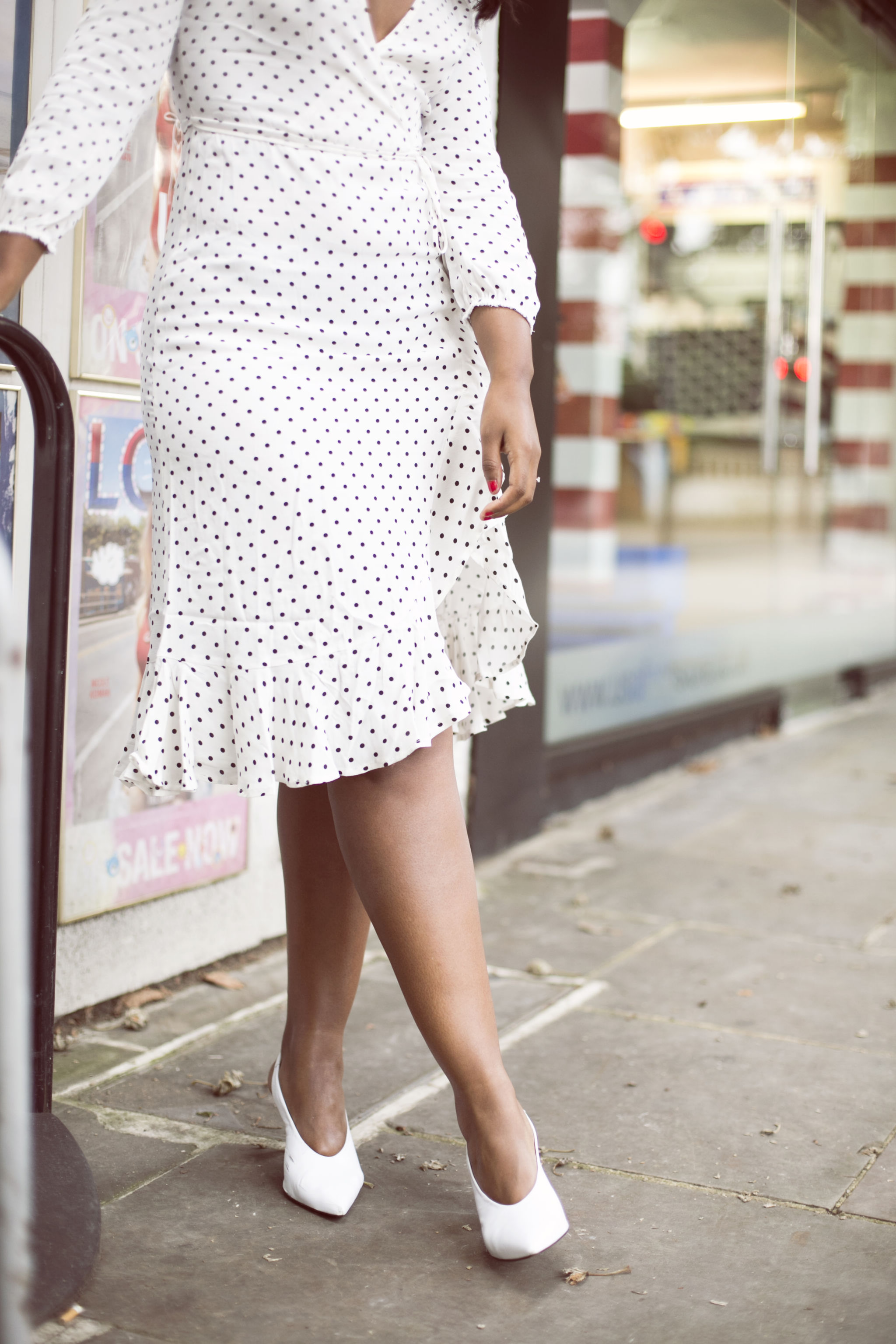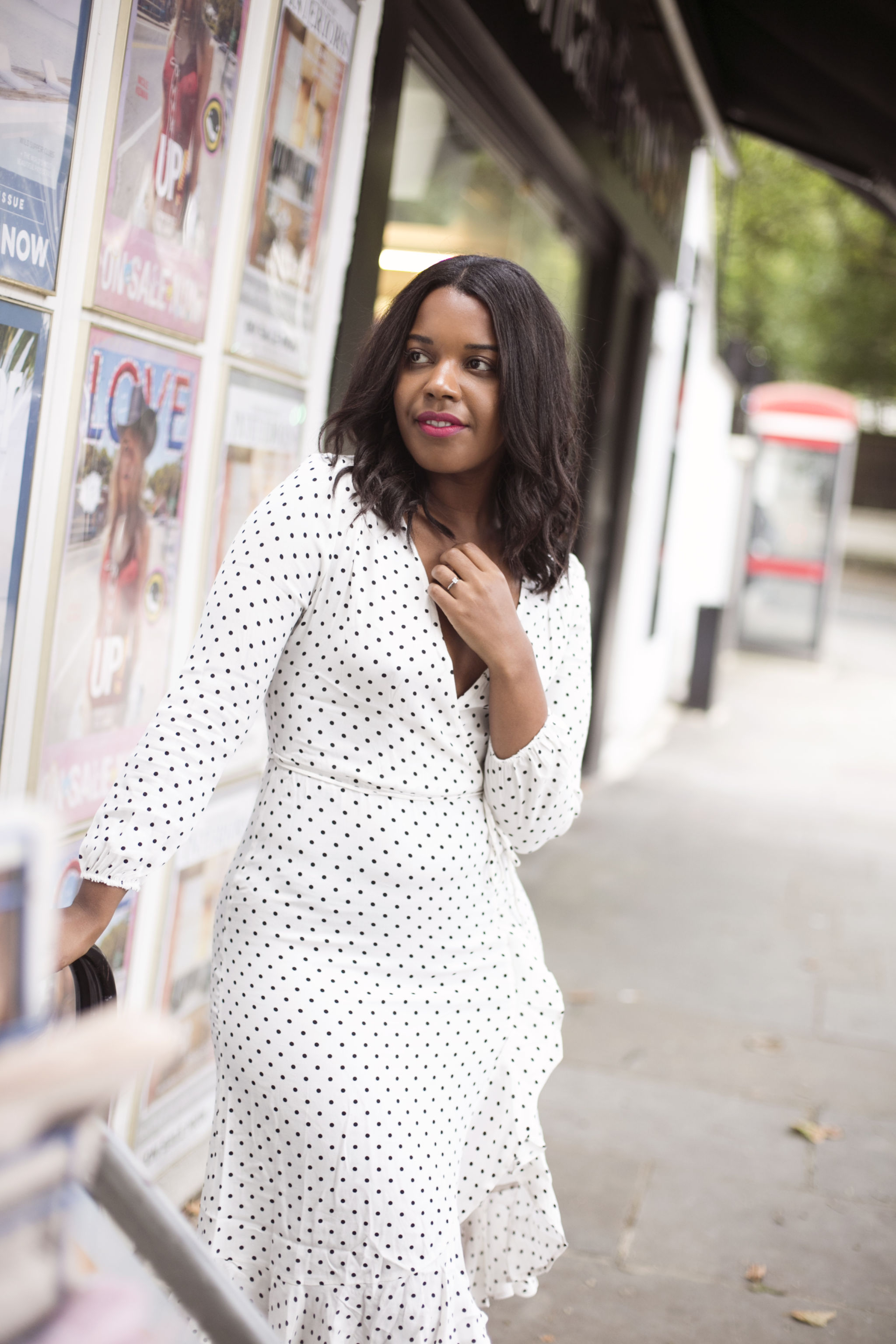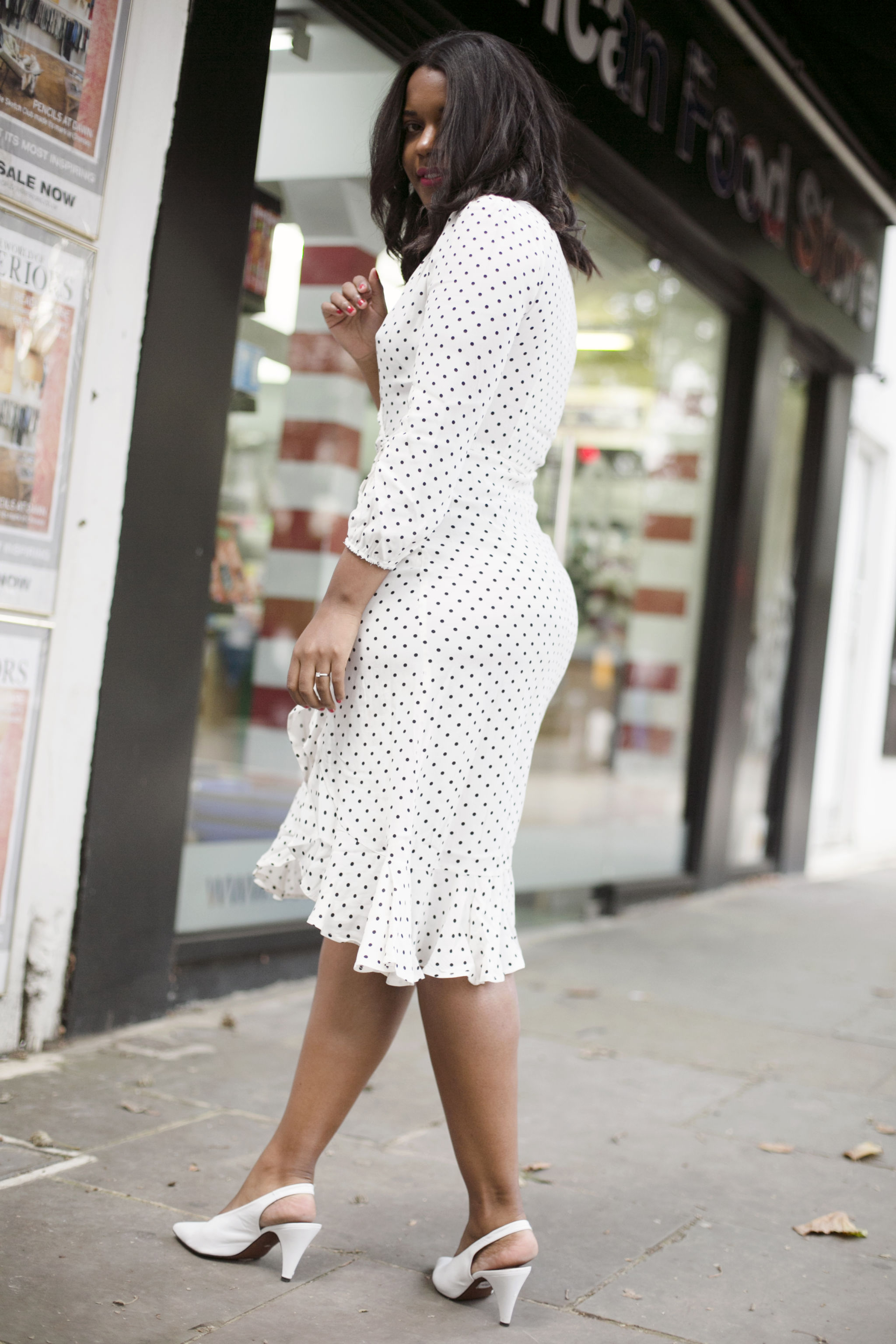 Work is beyond hectic. Therefore I've been keeping my head down battling my way through the build-up to Black Friday – it's a pretty big deal where I work. And so is alliteration copy which I can't seem to shake. Apologies.
My wedding dress finally arrived last week and after the initial excitement/squealing I freaked out about not being "wedding ready" in my appearance. Which left me feeling pretty disappointed in myself for even thinking because err I'll be wedding ready when I put on my damn dress, DUH?
Also last week marked 6 months until our wedding day and from that moment everything started to feel oh. so. real.
And not in the CRAP I need to get away I can't do this kind of real. More of the OK, it's time to get my shit together and get organising kind of real.
You may also have noticed that things have been a bit sparse on the social media front… And I fully admit it. I've been so shit lately and I'm really sorry about that.
But, I'll just come out and say it. Instagram is annoying tf out of me and I'm currently uninspired by it. And before you think this is a blog post dedicated to the demise of Instagram I promise you it's not. I just wanted to give you guys a reason as to why I casually ghost and why my posts have been so few and far between; Because we all know Instagram is like Inception and 4 days naturally feels like 4 months.
I guess I just don't feel motivated or inspired to post right now.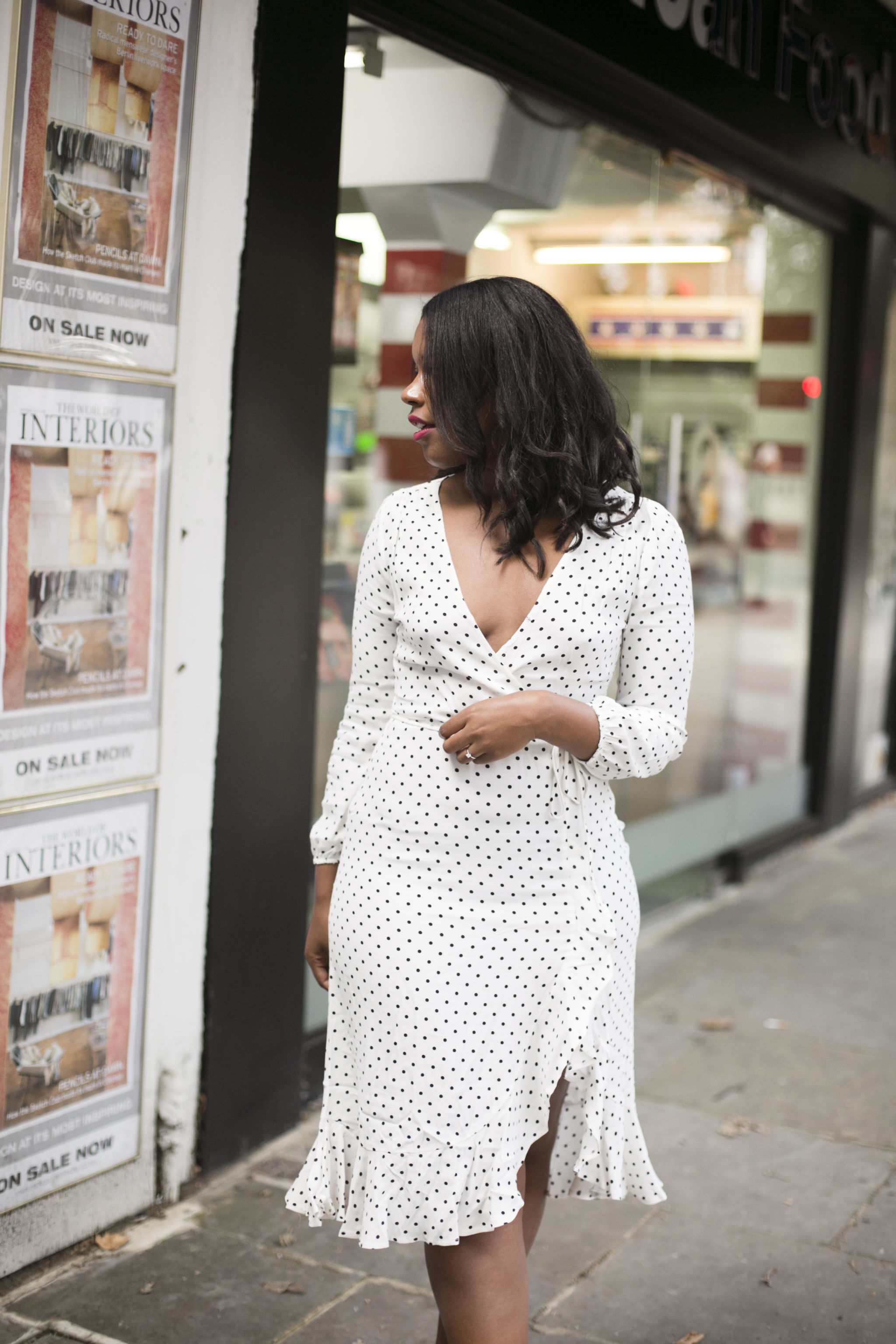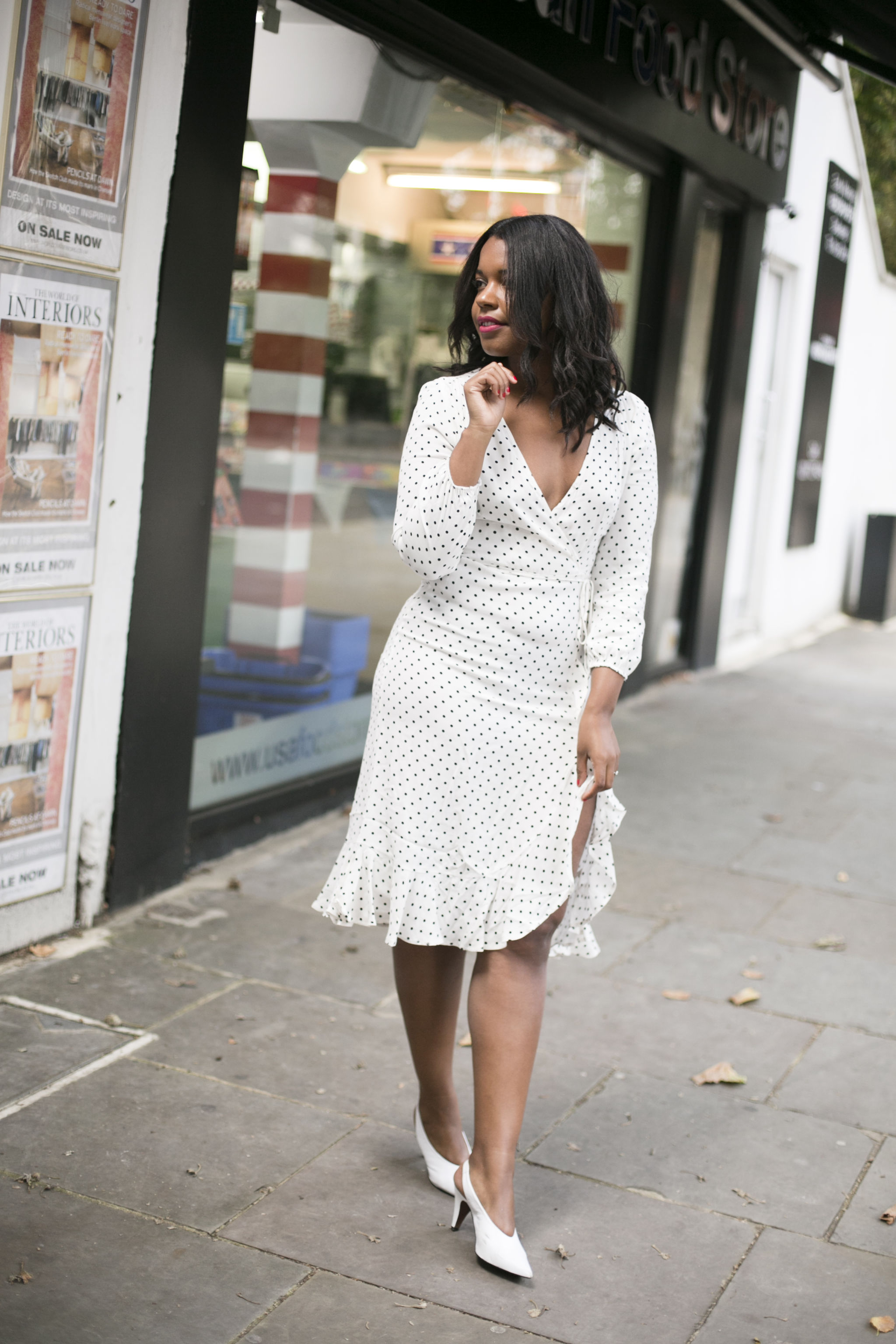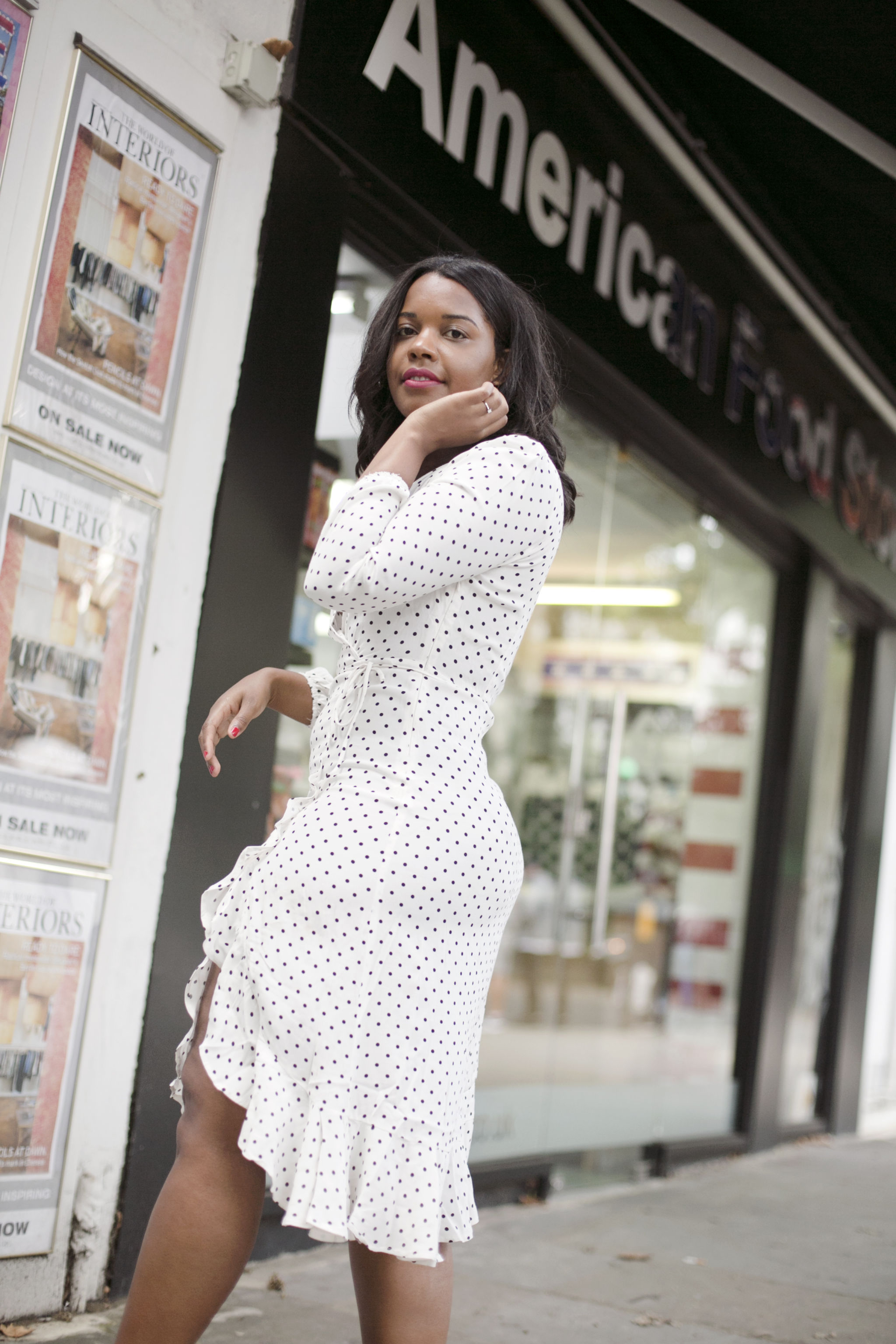 In order to change these feelings I'm going to try and come up with a plan. A plan to find ways to make it fun for me again.
Right now, I've unintentionally cornered myself into a theme which makes it hard to post anything but fashion. And although my love for fashion is the main reason why I started my blog. It's also not possible to take "grammable" pictures daily working full time.  It's all a sign that I need to mix it up a bit really, because I'm over feeling uninspired.
I just ask that you bear with me whilst I figure out a way to incorporate my life and style into my social without boring you all to tears. I say this because 9/10 you'll find me in my dressing gown once I get home from work and there's only so many instastories you'll want to see taken from the corner of my sofa. But I got this! I just need to get over the initial "nobody will care" assumption.
I've been getting inspiration from bloggers such as @thatsaleaf, @inmysundaybest and @bethanyelstone at the moment. Their insta-story game lately is UNREAL and so beautiful. I love watching their stories and getting a glimpse into their day to day lives – please go check out these gals, I promise you won't regret it.
I needed to show them love for inspiring me to have fun with creating content. Posting shouldn't be a chore, and that's the way it was starting to feel. But these gals make me want to do better.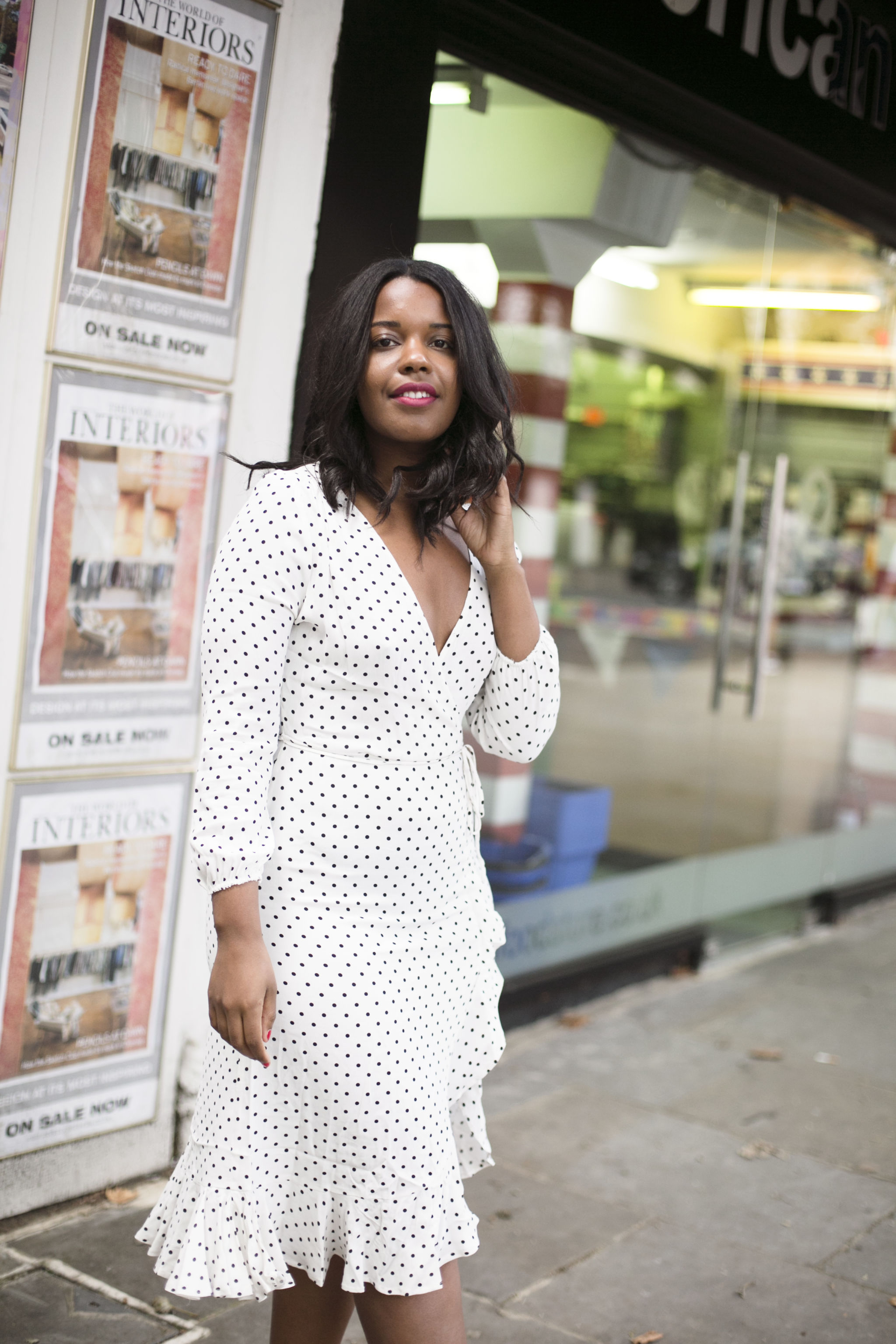 Anyway, back to the outfit.
I shot this power-house polka dot dress from Mango with Alise back in August around Notting Hill.  I can confirm that there's a few sizes left in stock. And if you're wondering how you can make it winter appropriate – channel Ganni/streetstyle and vibes and simply throw a chunky knit over the top with some tights.
If you read my blog, you'll know that I'm a major fan of wrap dresses.
I've spoken about not being comfortable with my body before but if there's one area I do feel confident; it would be knowing what to wear when I'm having a confidence crisis.
The wrap dress provides the perfect silhouette and never leaves me feeling self-conscious. Not to mention the amazing polka dot print on this beauty. Not only am I paying homage to Pretty Woman. But I also feel like I'm honouring all the favourite parts of me too…
This dress represents the girl that feels sexy and in command every once in a while. Furthermore, it represents the girl who will always power-through and get her shit together no matter how long her to do list is.
Wish me luck x