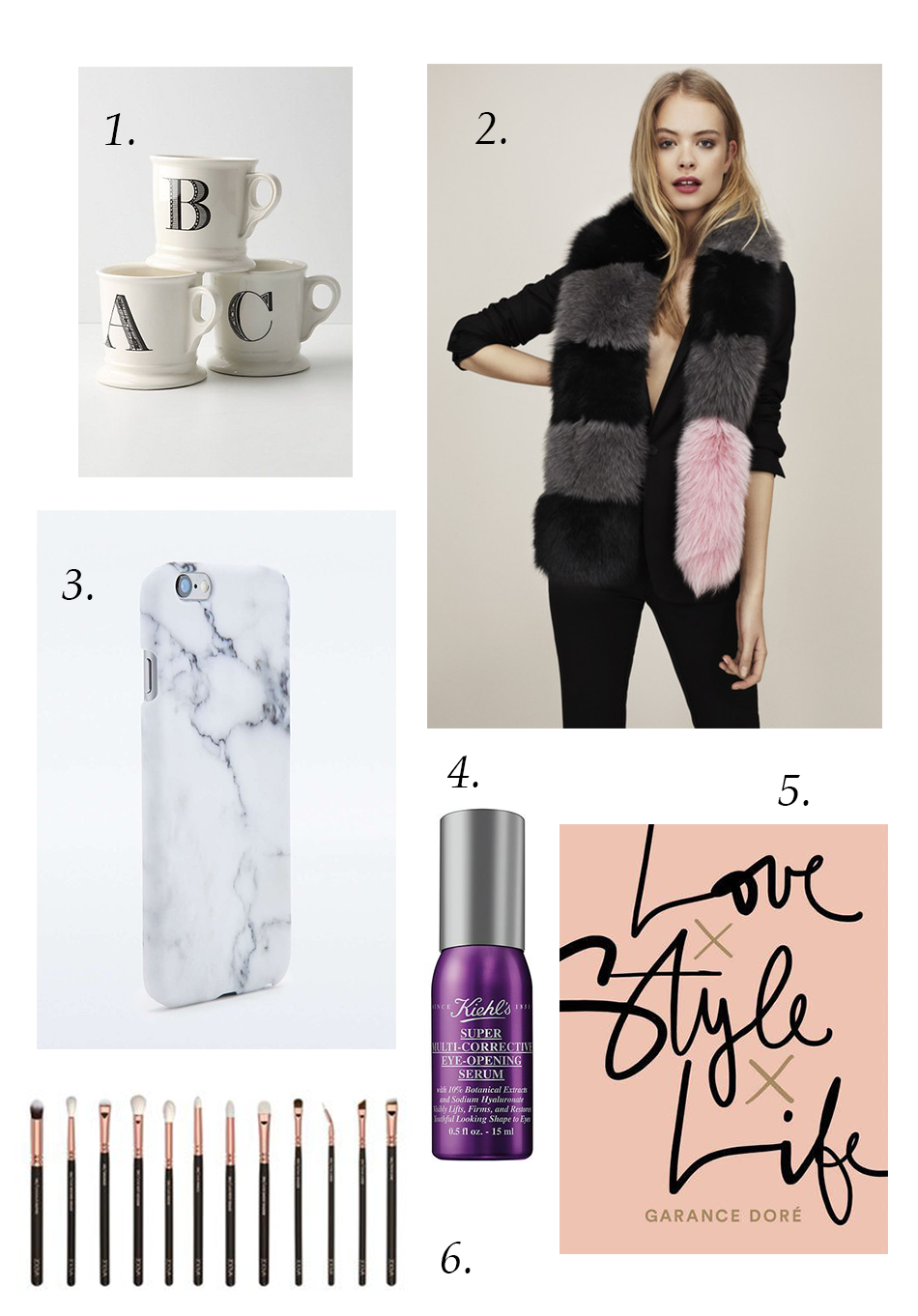 It's just one more week until payday and my LORD does it feel like it's been a long month. Spending Saturday nights in haven't felt that bad to tell you the truth. I've become addicted to watching Celebrity Big Brother (I know, don't judge me) cringey but I can't look away – Take Me Out is now back on and I have had Netflix and NOW TV in abundance.
With payday around the corner it's hard not to focus on all the things I want firmly in my possession/wardrobe asap… There's no way I will be able to afford all of these things on my wishlist but my Saturday night's are spent in bed, so endlessly browsing the web adoring things I can't afford go hand in hand ammirite?
Number one – Anthropologie mugs. Because personalised mugs are chic AF and would compliment my cosy nights in oh so well.
Number two – Charlotte Simone Big DADDY Scarf. Charlotte Simone's fluffy accessories are to DIE for. Anything pink and fluffy. I am down. I must own this asap, no questions asked. Faux Fur obvs, I'm not about that real fur life.
Number three – Marble Iphone 6 case from Urban Outfitters. Insta bloggers have sold it to me, I dunno what else to tell ya.
Number four – Kiehl's Super Corrective Eye-Opening Serum. Basically my dark circles are real and my bags have now become luggage. My sleep hasn't been so good this New Year…I'm stressing too much about work, worrying about making more time to blog (and what to blog) and my boyfriend has been snoring like a blocked nose walrus lately (I should probably update this) so I was recommended this product for sunken eyes to give you more of an awake look and can't wait to try it!.
Number five – ZOEVA Rose Gold Complete Eye Set. The more I watch youtube videos and my fave beauty bloggers do their make up, the more I am getting into it. I have always loved to buy make-up but it has never really been a priority of mine (sinful tbh).But over the past year or so my opinion has completely changed. Beauty products have become a high contender for reasons why I'm always broke and I am a girl on a mission to build up my collection.
Number six – Love x Style x Life by Garance Doré. I can't wait to add this to my book collection and take this read to Jamaica with me!
There's a lot more I would like to add to this list but this I don't want this post to end up a dissertation, you can always head to my pinterest for more! Are there any pay day treats you've got your eyes on? If there's any must-have items I've missed share the love!