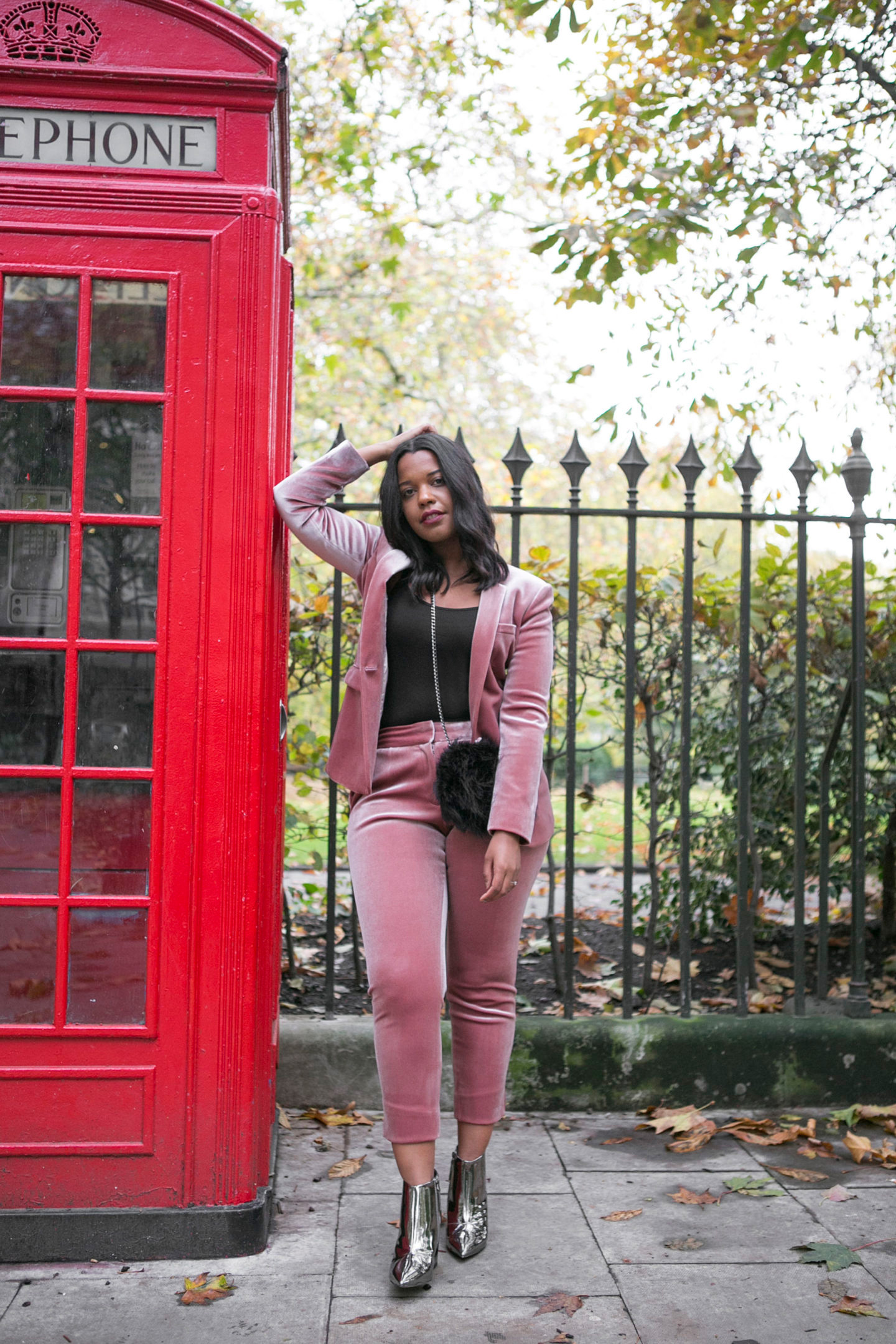 Well hello there and a merry Crimbo, limbo to you all! I don't think I got to say Merry Christmas properly on the day. And by properly I mean I didn't get to post, tweet or anything. Sorry about that, but I decided to put my phone to one side for the day and fully immerse myself in family time, Prosecco and more importantly pigs in blankets. It was truly bliss.
So what have I been up to then, lets see… Just before Christmas day we celebrated our one year anniversary since moving into our house and boy was it amazing. If you read some of my blog posts from last year you'll know that we were told our moving day was going to be three days before Christmas. And although at the time it was all majorly exciting and the best Christmas present we could've asked for. I look back now and think – well, that just wasn't ideal at all, was it?
Blazer| Topshop (sold out similar here) 
Trousers | Topshop
Bag | Topshop (sold out similar here)
Shoes | Topshop
Sunglasses | Ray Ban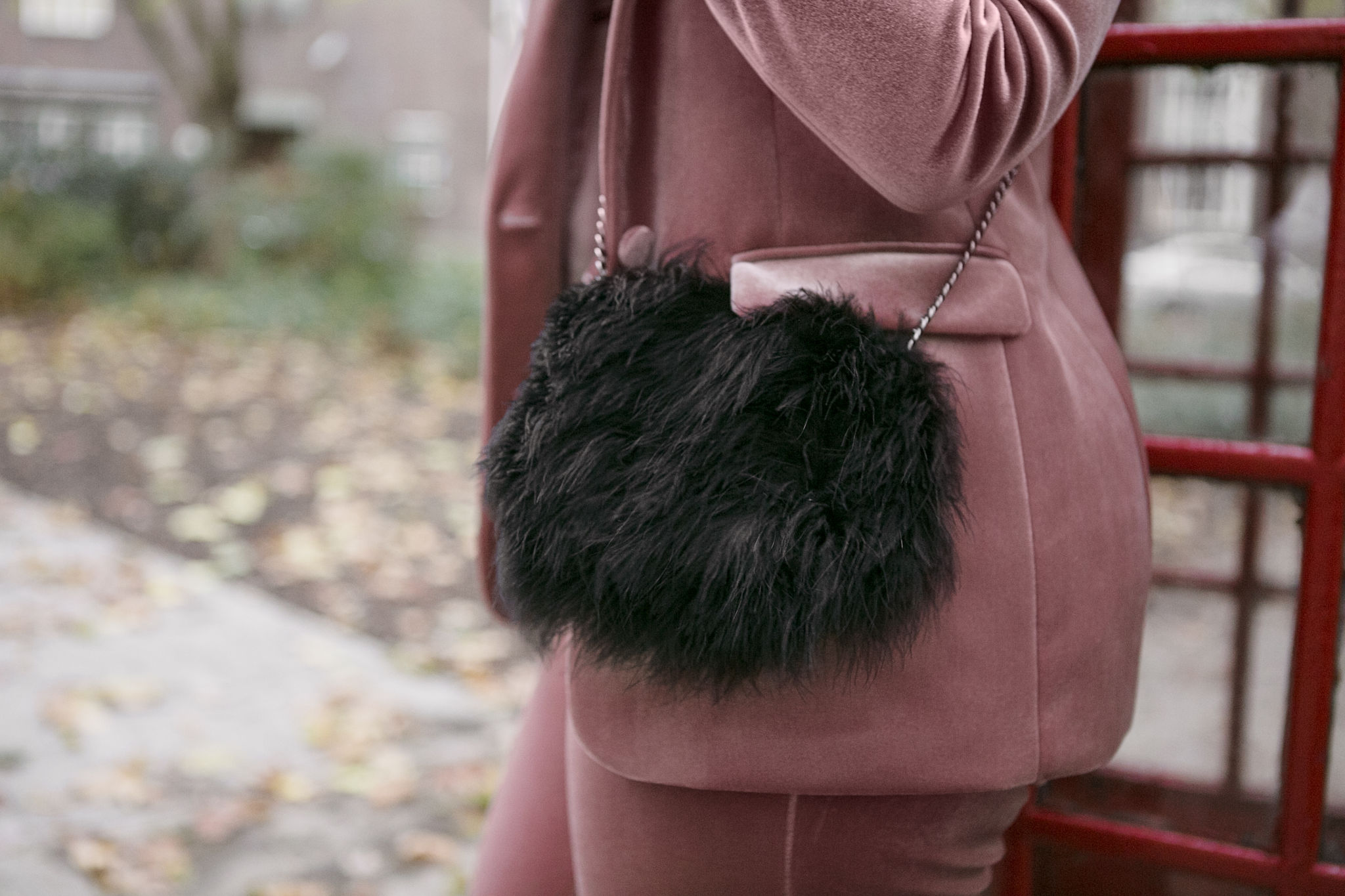 Moving is EXHAUSTING. Seriously, nobody warned me about this. I was completely unaware and blind sided by the level of intenseness. I don't think I can count moving to uni as intense because my Dad basically did everything for me; thanks Dad, love you. And I definitely don't count moving to London as stressful or exhausting because I went there with next to nothing on a whim.
It genuinely seemed never ending the day we moved everything over from my parents house. And overall it was super stressful relying on other people for important deliveries to get to us in time for Christmas. I guess what I'm trying to say is moving basically overshadowed Christmas entirely. And instead of getting excited to open presents, eat, drink and play games. Our time was filled with catching up on sleep, pleading with the BT man to give us internet and unpacking a shit load of boxes.
But not this time. Celebrating our one year anniversary in the house that we've slowly but surely made our home made us feel so happy and content.
So, after clinking with a glass of wine and a bottle of Estrella, me and Pete decided to play a game of cards (fun fact: Shithead is our favourite game, we've played it religiously since the day we finally got together) and come up with some new Christmas traditions; seeing as we'll no longer be waking up at our parents house.
Our first idea was to host a lil gathering with food, drinks and of course Christmas music. We filled the dining table with nibbles – which turned out to be a very beige buffet – but hey you live and you learn. We stocked up on prosecco and a few spirits to make up a mini bar. Then Pete cooked up a storm in the kitchen making a Chilli along with a few other Sainsburys party food favourites.
I even got to dress up – which is a win for me because I don't tend to go out much. It was just the best new tradition because it meant that we got to spend time with our closest friends and family before we all head our separate ways for Christmas. Adulting hey, shit's crazy. 
Our next tradition was to watch a film on Christmas Eve with Christmassy food and our favourite dessert – waffle topped with cookies and cream Häagen-Dazs ice-cream. I'm salivating just writing this btw. This might be one the best traditions. 
And finally, our Christmas Day tradition. We wake up in our Christmas onesies, pop the Bucks Fizz, play some Christmas tunes and take it in turns to open our presents in front of each other.
Just thinking about it all is making me miss it already! But I'm so happy that this year we actually got to enjoy each others company without one of us falling asleep mid-convo. Getting to wake up in our decorated and messy lived in house which now feels like our perfect home was the best.
We then headed over to Pete's parents house for the morning then ended up at my Auntie & Uncle's for a murder mystery themed Christmas dinner. It was hilarious and I now kind of want all my Christmas dinners to be themed, too much?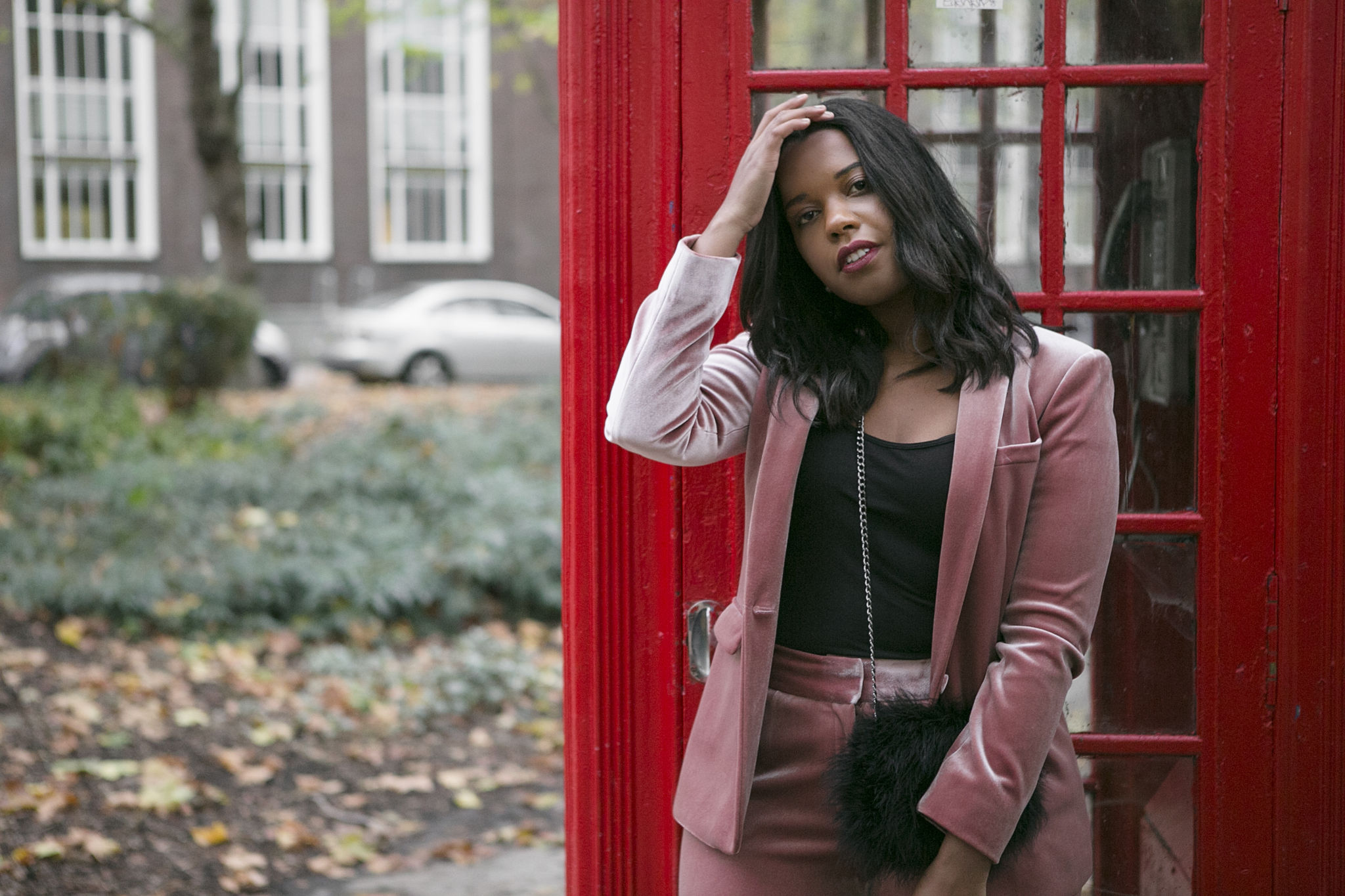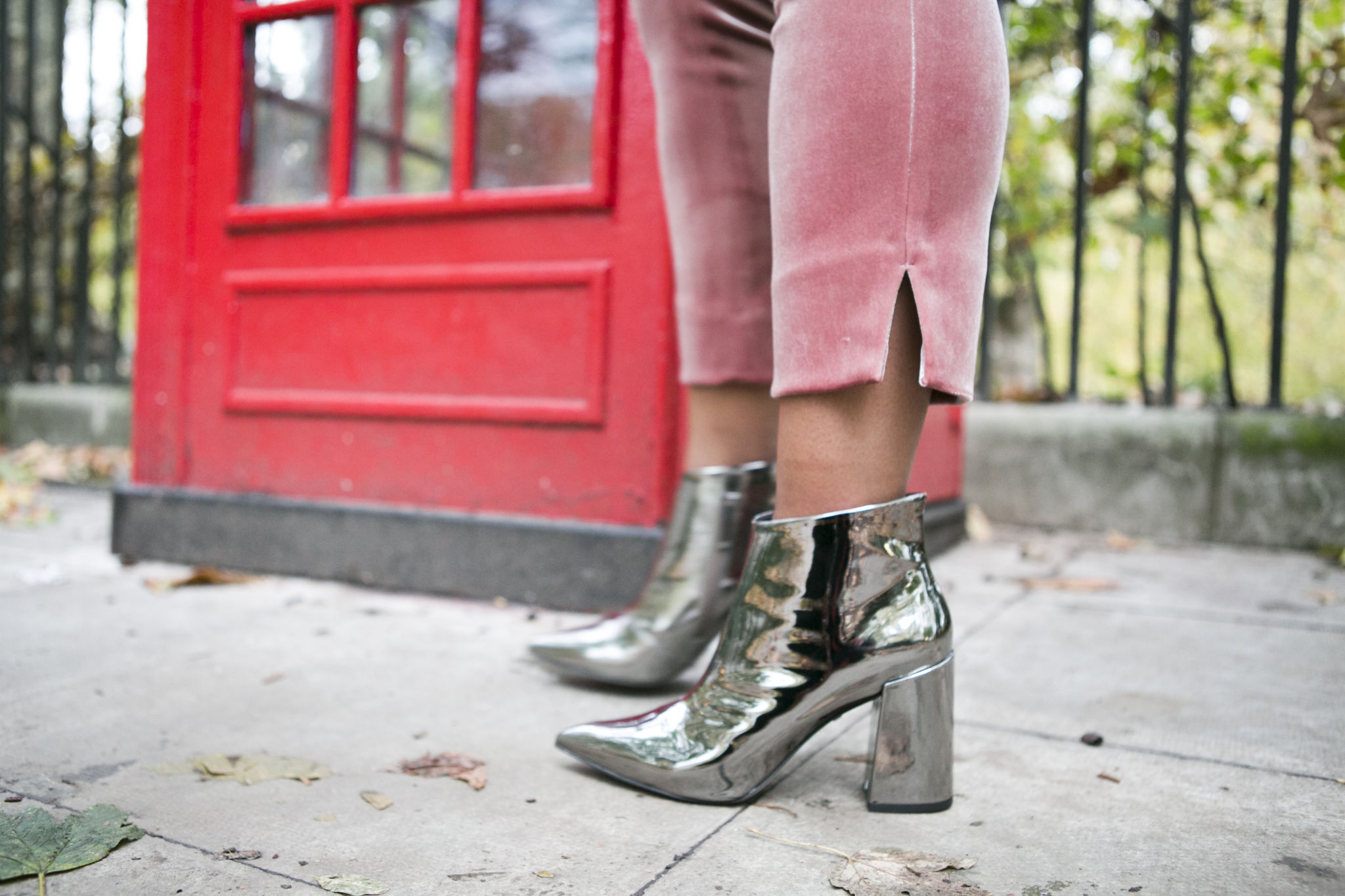 As for New Years we've been wondering what to do for weeks now and we always ends up having the same predicament. We don't want to go out because it's too expensive. But we don't want to just stay in because what if we get bored?
Well, this year we're meeting firmly in the middle.
We've booked a table at our favourite Italian restaurant – they have the BEST pizzas, I'm not even exaggerating. Then we're coming home, popping a bottle (how many times have I mentioned popping a bottle in this post, lol). Then seeing in the New Year with a few games, followed by some shit dancing to our fave music.
Thinking about these plans actually makes me excited for New Years for once. Because if you haven't guessed already, I'm really not a fan. I don't really know why, but I do know that for me, it always ends up being a let down and/or you end up spending triple the amount you would normally on a borderline, basic night.
Plus as I said before, I'm rarely that keen on going out, out anymore. Whenever I'm out, out I almost immediately wish I stayed home. And that's the way the story goes 9/10. Just call me grandma Karina, I embraced it.
But just because I'm staying at home. Doesn't mean that I can't dress up OKURRRR.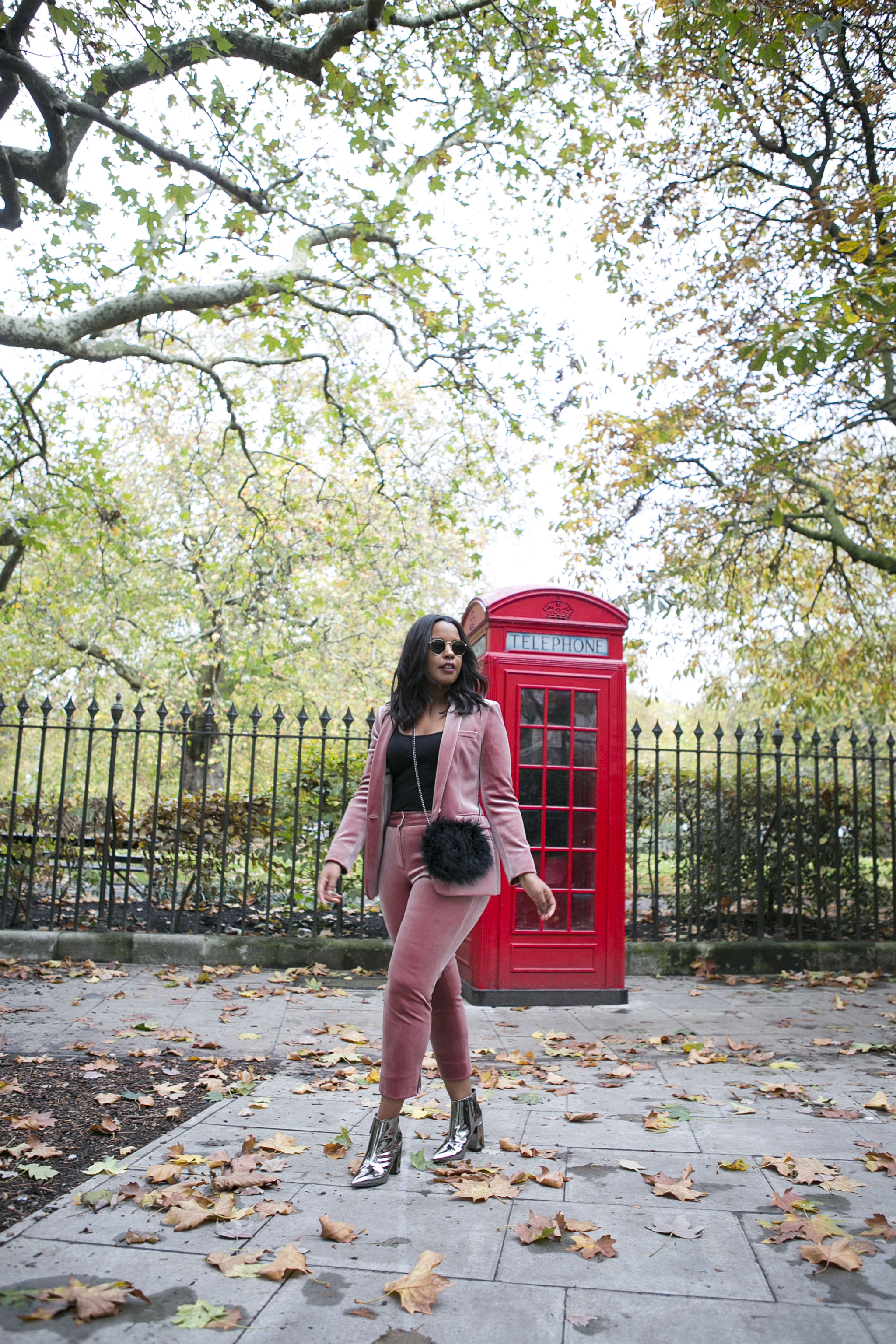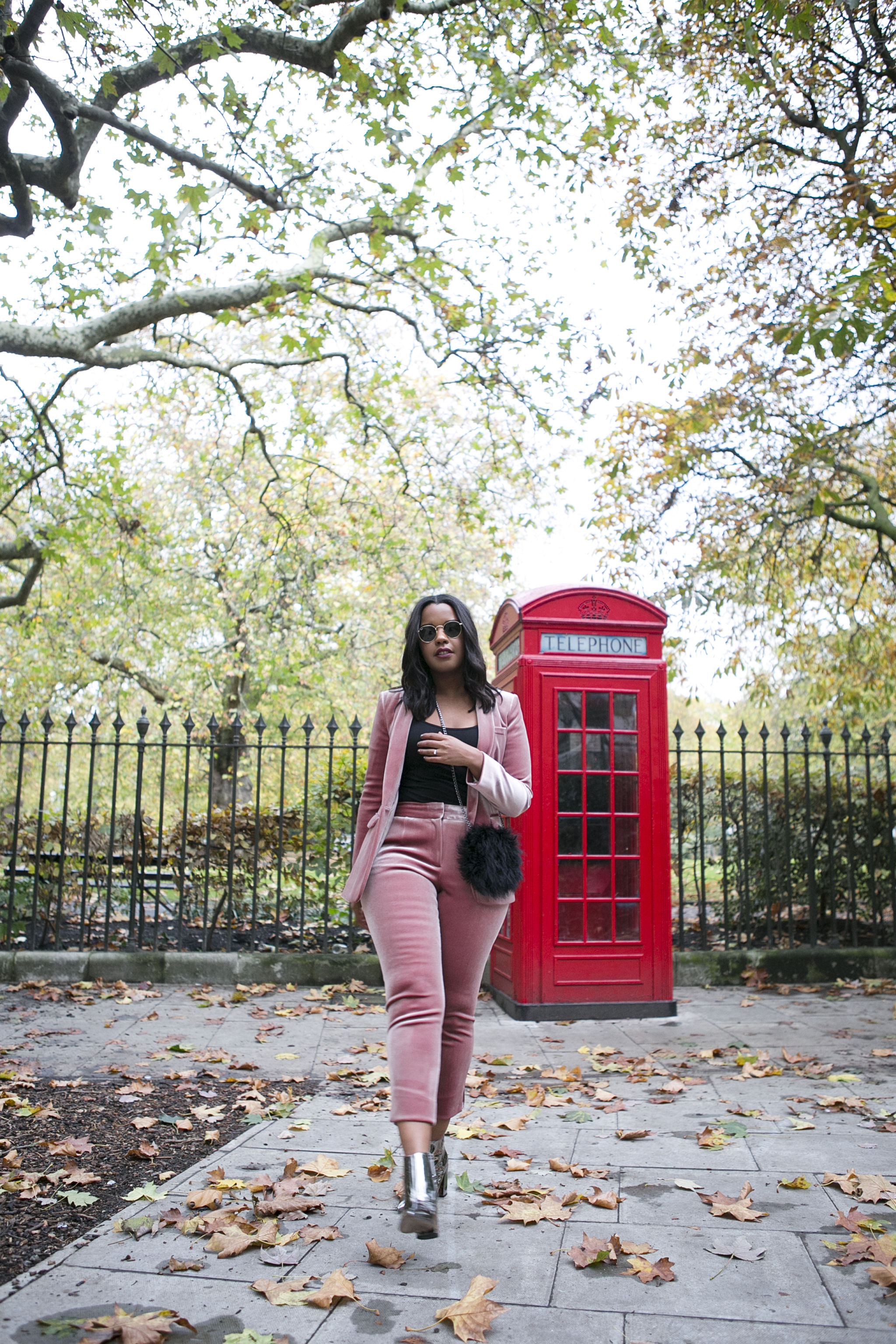 The velvet suit is the perfect outfit for a dinner, house party or night out.
A  co-ord suit is a little bit out of my comfort zone if I'm honest. I'm so used to rocking midi dresses or high waist skirts that wearing trousers feels unholy and unnatural sometimes. But give me a bit of pink with velvet and no doubt I'll get involved eventually.
You can dress it up with a sparkly cami and heels for a party. Or you can dress it down with a pair of trainers and a slogan tee for a chic, casual day vibe. All round winner I say.
Anyway, that's enough rambling from me. I hope you've all had an amazing Christmas break and like me still making your way through the biscuit tin. No guilt here lads, I'm living my best life right now.
Let know what your plans for New Years as I'd love to hear what you're up to! As for me I'm just really looking forward to seeing in the new year with my three favourite P's: Pete, Prosecco and pizza.
See you on the other side x