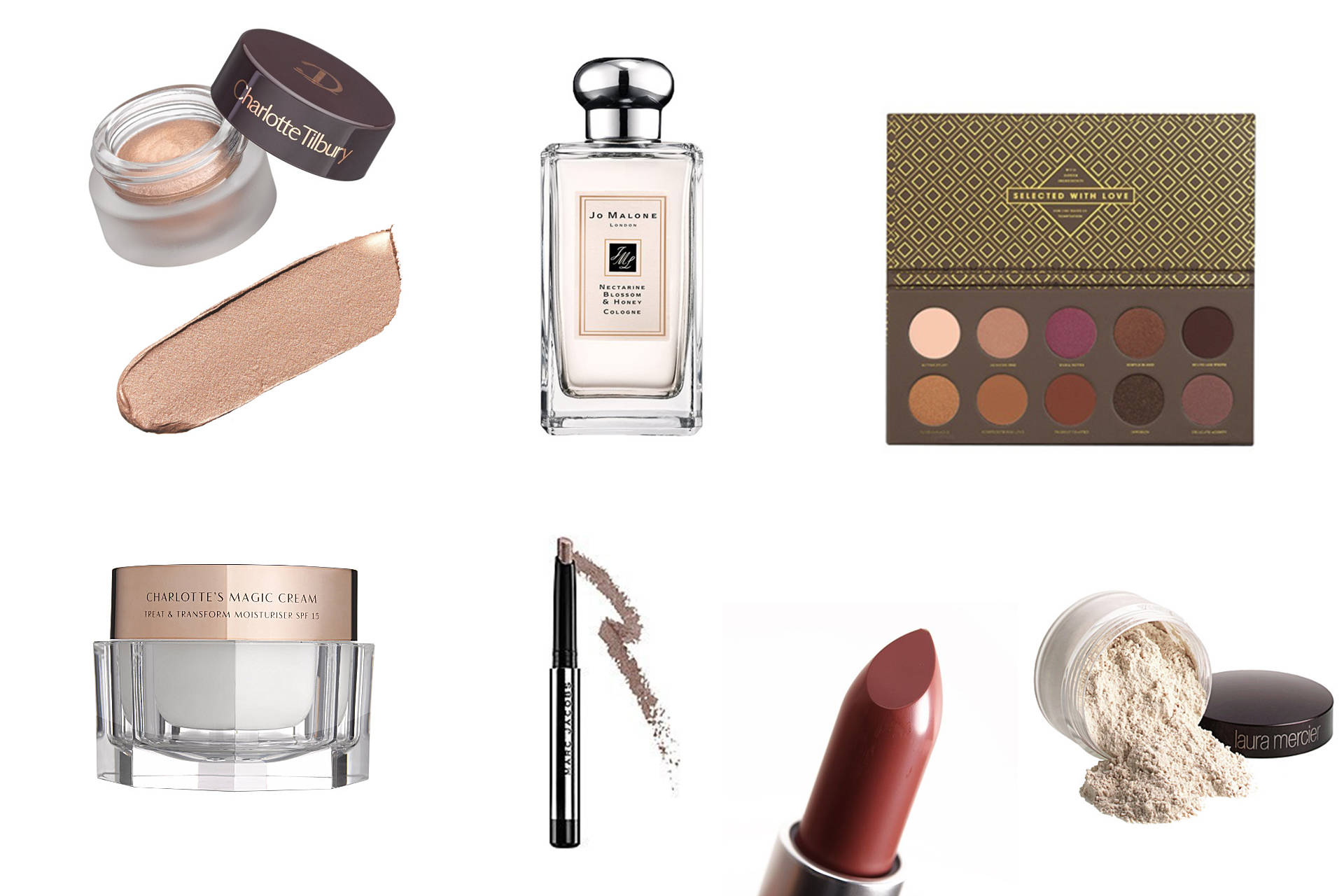 It's a new month and even though it's still cold af  I'm pretty sure it's starting to get a bit lighter outside in the evenings?! I haven't done a beauty only wishlist for a while but since it's a new month and a long awaited payday, I thought I'd collate my February beauty wishlist for inspiration on some products that I might just treat myself to this month.
After spending a chilled weekend catching up on ALL my fave YouTube beauty blogger tutorials and mooching around Bath (mainly Space.NK), I've seen a few products that I'm keen to own asap and ultimately try and build up my day-day make-up & skin care essentials.
Charlotte Tilbury – Eyes to Mesmerise in Jean
I am totally a Charlotte Tilbury fanatic and will never get bored buying products from her. 'Eyes to Mesmerise' is a favourite of Tanya Burr's that I always see being used in her tutorials. Basically Tanya planting inception and now I feel like I need to own this product immediately- damn she's good. I love that Tanya uses this product for day and night looks – this product is perfect for a subtle bright eye in the day or as a base for a hot smokey eye at night. I need it.
Jo Malone – Nectarine Blossom & Honey Cologne
Heaven in a bottle! The Jo Malone perfume's are a pricey bunch but (and there's always a but with me) I've heard such good things about their long-lasting perfumes! After taking a few sample scents home with me from my day out in Bath, the Nectarine Blossom & Honey Cologne stood out the most. With it's juicy, fruity smell I thought it would be the perfect perfume to transition into spring/summer and also take on holiday with me to Jamaica.
 This palette gives me life. It's been on my wishlist for a few months now and I always end up talking myself out of buying it. But enough is enough! The shades are the perfect mix of matte and pigmented colours. From nude bases to subtle browns and bold gold & purples, this palette is everything.
Charlotte Tilbury – Charlotte's Magic Cream
Another pricey one guys – you wouldn't think I was currently saving for a house would you? But the key word in this blog is 'wishlist' so it's all good . I'm not sure if I could ever ABIDE spending £70 on a moisturiser, especially as my Simple, Kind to Skin Hydrating Light Moisturiser is my HOLY GRAIL and has been my OG since day one. But (there I go again) this cream is known to smell absolutely divine and even though it has a thick consistency, once applied to the face it feels light as a feather leaving the skin super smooth and supple. Also there is just a certain air of  luxury with the packaging, it's so tempting!
Marc Jacobs – 'Twinkle Pop' Stick Eyeshadow
After watching Samantha Maria's YouTube video replicating Khloe Kardashian's make-up I fell in love with the eye shadow sticks she was using, her make-up looked so on point! I think she was using the Burberry eye shadow sticks? But after doing some Sunday night internet exploring I came across Marc Jacobs beauty range…It's everything I imagine and more.  I'm not sure if Marc Jacobs beauty products are available to buy in the UK yet or if I'm just being a bit silly and can't find them – if so could you send some links my way? Anyway, I digress – the sleek black packaging is so so sexual and the shade is so pigmented, bright &  beautiful. Also anything called Twinkle Pop wins me over, hands down.
Mac Cosmetics – 'Whirl' Lipstick
This is an oldie but my god is it a goodie. We all know it's a Kylie Jenner lip favourite which is why I can never seem to get my hands on it as it sells out almost every time Mac have it in stock. But my luck seems to have finally changed – I spy Whirl lipstick back in stock, online and I may or may have not purchased this already…I definitely have.
Laura Mercier – Loose Setting Powder
After having a go at baking my skin with a loose setting powder I adored the results! It made my skin look absolutely flawless and I strongly believe I could sweat up a storm on a night out or at the gym and my make-up wouldn't go anywhere. I am currently using the Nars 'Light Reflecting' powder but after comparing it to the Laura Mercier powder I'd say Mercier is a tad more sheer, with a silkier finish, which doesn't leave my face looking so over done. Think I will be switching over to this powder pretty soon.
What's on your beauty wishlist? Any products you can recommend?