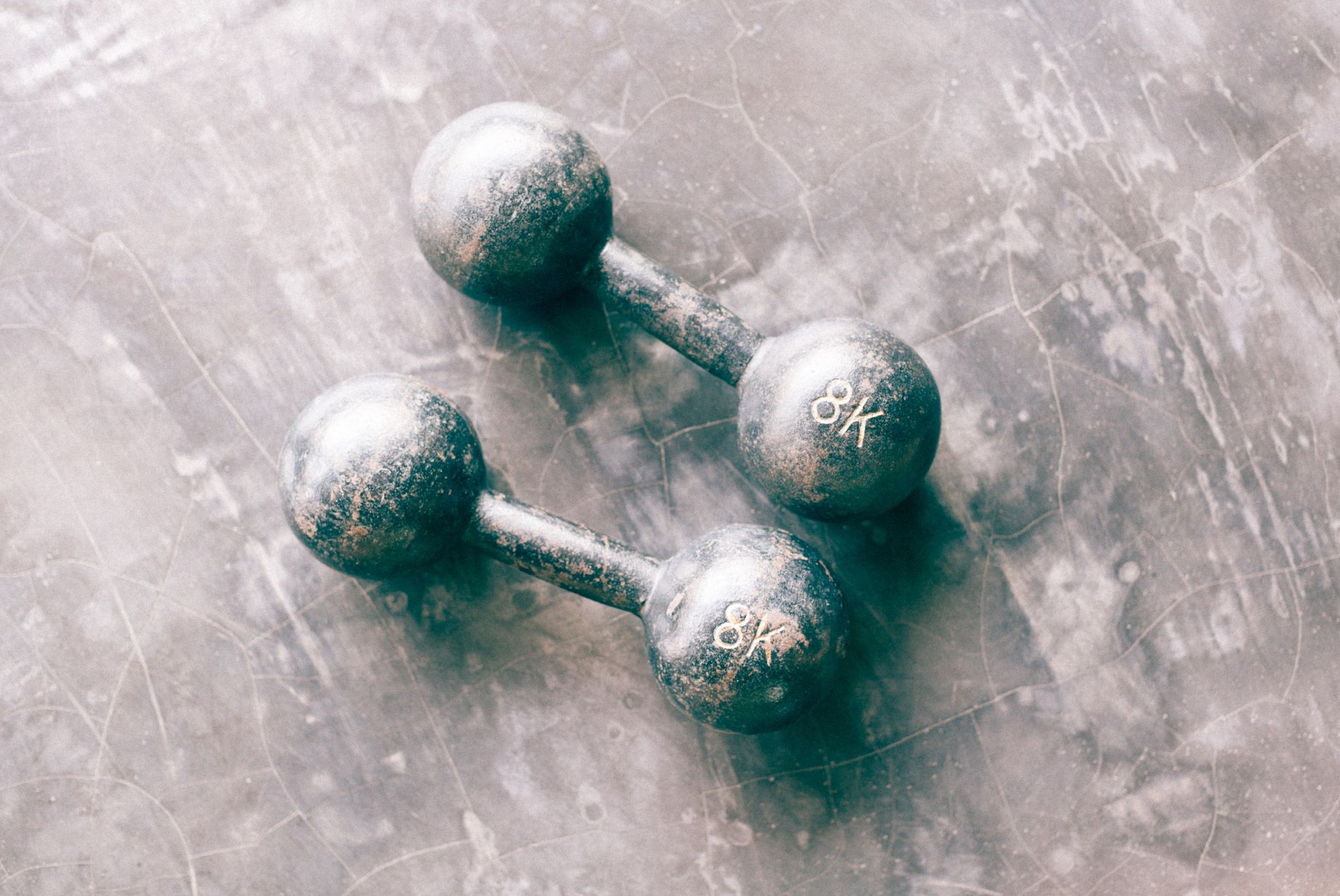 Brace yourselves, winter is coming. The thing about winter, is that all motivation for the gym fades and the need for mulled wine by the fire, shortbread cookies and ALL the cheese ignites. My winter motto goes from 'no carbs before Marbs' (but who am I kidding – gimme all the carbs) to eat, drink, sleep, repeat. Why? Because it's dark, cold and there's a 30% chance it's already raining. So where does the gym possibly fit in to all this huh?
I could think of a million reasons why I shouldn't get up and go to the gym during the winter hibernating period. But with my wedding getting closer and multiple hen do's impending, I've decided to don my new women's gym leggings, get a new routine and werk (say it x5) for the body and confidence that I deserve.
So, whilst 'summer bodies are made in the winter' might be motivation enough for some, here are some other ways to help you get up and go to the gym when you simply C-B-A.
Get a new routine
I don't know about you but turning up to the gym and aimlessly wondering around thinking about which equipment to use first really kills my buzz. Turns out I was doing the same thing day in, day out like clockwork –  there's no wonder I lost my motivation. Because why would you want to continue doing something you find a chore? It's not enjoyable and quite frankly boring. So if you're feeling this way too, now's the time to shake things up!
I've found great inspiration and routines from Instagram and Pinterest. Then I eventually came across Kayla Itsine's BBG programme which consists of cardio and circuits over a 12-week period. I won't lie to you, I couldn't walk down a flight of stairs without thinking 'This is it. This is how I die…' for a couple weeks. But it turns out my strength, body and confidence are shaping up rather nicely because of it. No pain, no gain –  I hate myself for saying that.
Find new gymwear that makes you feel like the sassiest version of yourself
It's a no brainer. Look good, feel good, right? Investing in new gym kit gave me the motivation I needed to get up and go because I'm just way too excited to wear my new clothes.  I tend to go for bold colours when it comes to the gym because 1. I'm a colourful gal and 2. For some weird reason it makes me feel more awake in the mornings. Jack Wills, Nike and Gymshark are nailing the stylish gymwear game lately so I would definitely recommend starting there.
Make your alarm bespoke
Now, call me crazy but I like to try and talk to 'future Karina'. Hear me out.
No-one knows me better than myself and I am fully aware that I'm a stubborn human being. So, when I don't want to do something I really won't. But what if I could convince 'future Karina' to act differently? In comes the bespoke alarm.
I know that future Karina loves to snooze, so what did I do? I set multiple alarms and gave them names. The names of those alarms you ask? Well just check out an example below.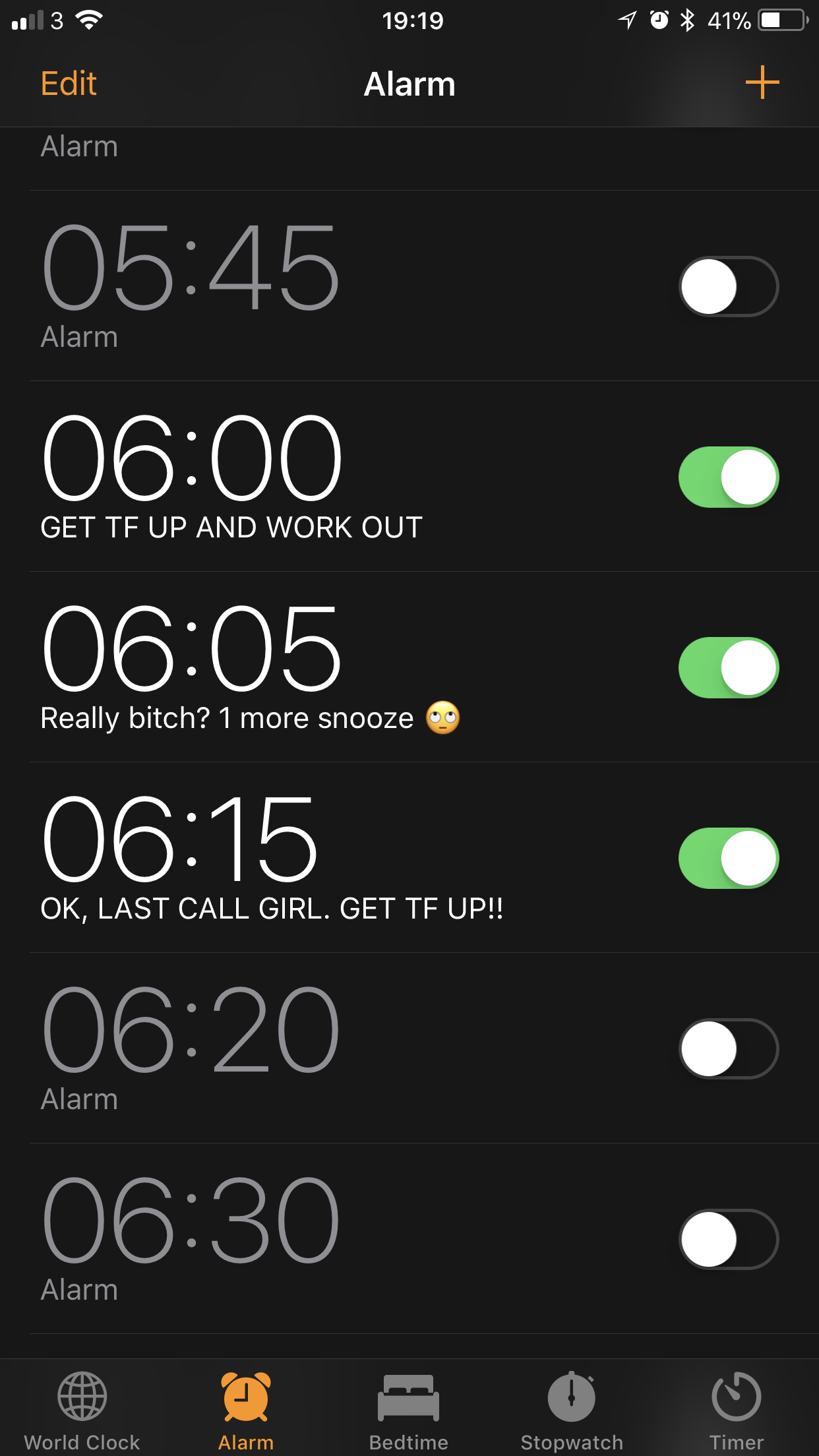 When I wake up and read that I instantly think about the mood I was in when I set the alarm – motivated. So get up and go squat gal!
Progress pictures
I mean, taking pictures of your body to only critique and wince at everything you want to change felt like a sick joke to begin with. But seeing as I was desperate to ditch the sad step (the scales) I thought pictures would be the next best thing.
Progress pictures is a great way to really notice your improvements which will give you the motivation and confidence to keep going. In summary if you want to keep a record of your achievements, pictures tell the true story of your journey. Remember, scales are just a lying POS because our weight will always fluctuate, don't get caught up with numbers.
"Ooooh Gym Friend"
That's right, you don't have to do it alone! Grab a mate (or in my case my fiancé) and set goals between you both so you can motivate each other to get there. It works well for me because me and Pete live together and work together so our cheat days tend to be in sync. But it also makes sneaking a packet of crisps or any other junk food at my desk pretty-hard because I'm sure he'd be able to hear me – damn you Pete.
Prep is LIFE
I really can't stress this last point enough. It's honestly the only thing that gets me through a successful week of eating and gyming.  And that's to prepare your food & routine as much as you can.
I've become one of those people who pack their gym bag the night before and prepare all my meals for the week. OK confession, I don't cook them, Pete does because he's the amazing cook. I can barely make spaghetti.
Anyway, I plan my course of attack for the week and decide which parts of my body I want to work on. Then once I've done that I figure out my meals for the week. This stops me from binging or hopping out to Sainsburys on my lunch break because 'Oh would you look at that, I got no lunch, so I guess this burger and chips will have to do'. Preparation breaks all my naughty habits. And when you're on a mission to feel like your best self, continuous bad habits will only set you back. So plan, plan, plan until it becomes second nature and I promise you will feel motivated to keep going in no time!
Gym Wear Faves
This is a sponsored post created in collaboration with Jack Wills.